Guidance for server check
Close
Notice: For examining our server, ticket issuance, itinerary change and refund are impossible from 11:50 p.m. on Jan. 27 to 01:00 a.m. on Jan. 28. Thank you for your understanding.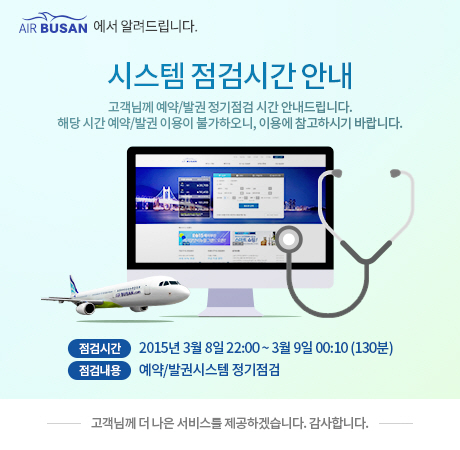 Notice.
System Maintenance time
Please note System Maintenance time.
Booking or Issuing ticket is not available during the time below
22:00 8th Mar - 00:10 9th Mar 2015 (130 mins)
regarding ticket booking/issuance system maintenance
We will do our best to serve you better.
Guidelines for Passengers Travelling to US routes (Guam/Saipan)
Close
Before purchasing tickets, please review the regulations pertaining to the use and collection of passenger information required for certain countries.
Collecting passenger information such as name, gender, date of birth who travels the US routes is mandatory for prior security check according to US Transportation Security Administration(TSA). So, when you make a reservation, you have to input your English name, gender, date of birth same as on the passport. If you do not enter the prior information, please note that the boarding of the flight can be unacceptable.

또한, 해당 정보는 미국교통안전청의 개인정보 정책에 따라 관련정보기관 등에 제공 될 수 있으며, 자세한 개인정보 정책은 미국 교통안정청 사이트(http://www.tsa.gov)를 참조하여주시길 바랍니다.

According to US Department of Transportation(DOT) regulation, non-US airlines are not possible to operate flights between 2 regions of US(Including American territory - GUAM, SAIPAN, AMERICAN SAMOA) with the purpose of economic or commercial activity. Please note that passengers who immigrated from US by using non-US airlines cannot make reservations and issue a flight ticket of Busan-Guam route by Asian region airlines(Including AIR BUSAN) according to U.S. federal law.

Korean citizens without a visa : Maximum stay is 45 days.
Be sure to complete an application form for visa exemption to the Commonwealth of the Northern Marian Islands (CNMI) separately.
For passengers with ESTA approval : Maximum stay is 90 days.
Only passengers holding an e-passport can apply for ESTA approval.


Due to request of the US government, from July 13, all electronic devices larger than the cell phone carried by passengers departing to US (Guam) will be randomly added to the security check in front of the gate. Please note that if you refuse a security check, you will not be able to bring it in your carry-on baggage or checked baggage.
자세한 사항은 ESTA (여행 허가 전자 시스템) 전용 인터넷 사이트(https://esta.cbp.dhs.gov)를 참조하시기 바랍니다. 단, 입국 시 필히 왕복항공권 혹은 제3국으로 여행하는 항공권을 소지하셔야 합니다.