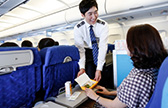 Precautions before intake foods
Passengers with allergies about particular foods or similar symptoms should check the menu before boarding. (ex: meat, shrimp)
For peanut allergy sufferers : AIR BUSAN serves peanuts with beer service at a cost.
Furthermore, we cannot exclude the possibility of including peanut ingredients during cooking process and we cannot prohibit the possession and intake of other passengers. Thus, passengers with allergic sensitivity should contact and consult with doctor before flight.
Information on termination of free meal service
Effective date : From Apr 1, 2019 (based on boarding date)
Applicable for : International flights
※ Based on boarding date Free in-flight meals are provided up to Mar 31, 2019. (일부 노선 제외)
- not available to round-trip : Busan/Daegu↔Fukuoka, Osaka, Narita
Busan↔Nagoya, Qingdao
- not available to one-way : (Night) Sanya, Taipei, Da Nang→Busan/Daegu Arrival
(Night) Xi'an, Cebu, Hong Kong, Macao, Siem Reap, Guam, Hanoi→Busan Arrival
Expand services to purchase in-flight meals
Sales on all international flights from Busan and Daegu (except for flights from Guam)
Expansion of in-flight meal sales
'19년 3월 1일 부 확대 판매 실시 (4월 1일 부 탑재 예정)
Information on CAFE BLUE
부산, 대구 출발 국제선 노선 식, 음료 및 기타 상품 판매 확대
후쿠오카 노선 판매 제외, 괌 노선 일부 품목 상이
'19년 4월 1일 부 적용